Oregon Scientific Smart Augmented Reality Globe with Day and Night View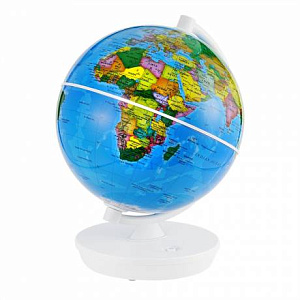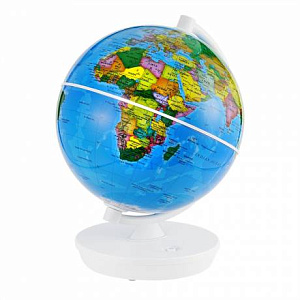 2 in 1: Earth by day, 88 constellation by night
The clever, new, smart globe offers twice as much fun while learning.
During the day, the globe shows political borders, oceans and seas, countries and capitals. At night, prospective astronomers can view an illuminated map of stars and planets at the touch of a button. With 88 constellations, the globe is transformed into an impressive room decoration, ideal for children who find a night light pleasant.
With a tablet or smartphone, children can even unlock augmented reality content such as animals, sights, dinosaurs and weather data! It is also particularly fun to explore flags and take on challenges.
Become a geologist
Featuring rich content around the globe, this Smart Globe allows children to interact and explore the Earth in 4 different AR models: animals, dinosaurs, sights and climate. The learning process is even more fun and impresses with the challenging quiz. The boys are on their way to becoming a little earth expert.
For future astronomers
Observe up to 88 constellations. Initiate the children's dream project of being a future astronomer and illuminate their future with this fascinating Starry Globe.
Keeping knowledge up to date
We keep our source upgradable! Let our Smart Globe Starry Globe grow with the little ones! With the ever-growing AR content, it's a brand new adventure every time!
Dual Power Mode
The Smart Globe Starry Globe breaks through the traditional stand-alone power supply and offers two charging modes: battery and USB charging. No more worries that the energy runs out, let the globe recharge the voyage of discovery of young adventurers over and over again.
Features:
4 different AR models: animal, dinosaurs, sights and climate
2 in 1: Earth by day, 88 constellation by night
Experience 3D Augmented Reality with a tablet or smartphone
Nearly 400 content to explore with AR, including landscape, animals, weather, dinosaur and weather phenomenon, national flag, basic information and quizzes
Powered by 2 AA batteries (included) and USB power (adapter not included)
Scope of delivery:
Globe
2 AA batteries
Operating manual
Oregon Scientific Smart Augmented Reality Globe with Day and Night View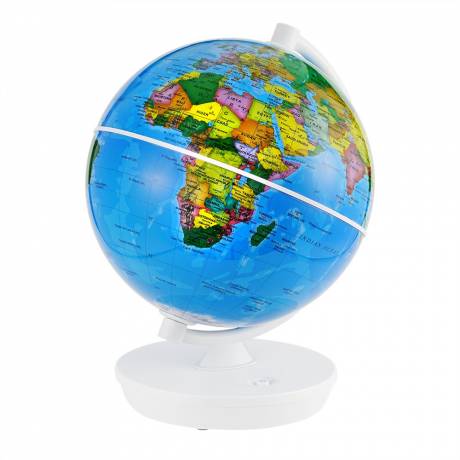 The clever, new, smart globe offers twice as much fun while learning. During the day, the globe shows political borders, oceans and seas, countries and capitals. At night, prospective astronomers can view an illuminated map of stars and planets at the touch of a button. With 88 constellations, the globe is transformed into an impressive room decoration, ideal for children who find a night light pleasant. With a tablet or smartphone, children can even unlock augmented reality content such as animals, sights, dinosaurs and weather data! It is also particularly fun to explore flags and take on challenges. Become a geologist Featuring rich content around the globe, this Smart Globe allows children to interact and explore the Earth in 4 different AR models: animals, dinosaurs, sights and climate. The learning process is even more fun and impresses with the challenging quiz. The boys are on their way to becoming a little earth expert. For future astronomers Observe up to 88 constellations. Initiate the children's dream project of being a future astronomer and illuminate their future with this fascinating Starry Globe. Keeping knowledge up to date We keep our source upgradable! Let our Smart Globe Starry Globe grow with the little ones! With the ever-growing AR content, it's a brand new adventure every time! Dual Power Mode The Smart Globe Starry Globe breaks through the traditional stand-alone power supply and offers two charging modes: battery and USB charging. No more worries that the energy runs out, let the globe recharge the voyage of discovery of young adventurers over and over again. Features: 4 different AR models: animal, dinosaurs, sights and climate 2 in 1: Earth by day, 88 constellation by night Experience 3D Augmented Reality with a tablet or smartphone Nearly 400 content to explore with AR, including landscape, animals, weather, dinosaur and weather phenomenon, national flag, basic information and quizzes Powered by 2 AA batteries (included) and USB power (adapter not included) Scope of delivery: Globe 2 AA batteries Operating manual